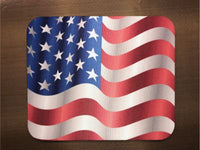 Proud to be an American. Use this awesome good quality custom mouse pad. 7.75"x9.25"x.25" These are NOT super thin mouse pads. Measuring at almost a 1/4 inch thick makes it very durable. MADE IN AMERICA!
Important Information
Contact us for large quantity discounts. This item is made in house. If you are searching for a product and don't see it, contact us at (717)875-9211. Wicked Stickerz is your one stop personalized gift and small business promotions store. No returns on personalized items.