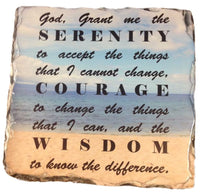 A wonderful gift for that special someone that is in recovery. You can request to change the background image. 6"x6" square slate with display legs. 
Photo Slate Rock are stunning when images are applied using dye sublimation printing. Every slate comes with a nice black display stand (2). The rocks have natural imperfections that make each plaque unique. The polished slate has been coated with thick polyester based coating that will display your transferred images with outstanding clarity. Each plaque has a black plastic stand. Wipe clean with a damp cloth. 
No harsh chemicals.
Important Information
Contact us for large quantity discounts. All items are made in house.
There is no set-up fee at Wicked Stickerz. If you are searching for a product and don't see it, contact us at (717)875-9211. Wicked Stickerz is your one stop personalized gift and small business promotions store. No returns on personalized items.