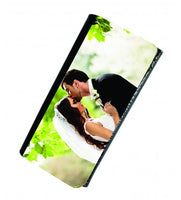 Faux Eel Skin Trifold Wallet
Image Area:
7 5/8" x 3 3/16" or 7.625" x 3.1875"
Size of the Wallet Folded:
7 5/8" x 3 3/4"  or 7.625" x 3.75"
Unfolded:
7 5/8" x 12 1/16" or 7.625" x 12.0625"
interior pocket depth- 2 interior pockets at 3.25" deep, 2.75" deep zippered change purse.
Select one or more images to customize your own Faux Eel Skin Wallet.   A great way to show off your loved ones whenever your go out!
Important Information
Contact us for large quantity discounts. If you are searching for a product and don't see it, contact us at (717)875-9211. Wicked Stickerz is your one stop personalized gift and business promotions store. No returns on personalized items.